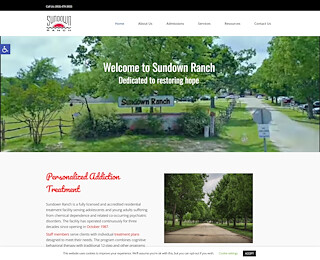 Whenever you or a loved one is faced with addiction, it can be difficult to determine the best course of treatment. Whether you want to find a facility for yourself, a child, your friend, or even your spouse, you will have a lot of different options to pick from. You will see that understanding the most important criteria and how each facility approaches treatment will make a world of difference. As long as you do your research, you will be able to find the right rehab facilities in Dallas to offer the most promising and long-lasting results. 
Selecting the best rehabilitation center is your key to having an effective treatment. There can be numerous stressors connected to addiction, so the last thing that you want is to find that looking for a good treatment center only adds to the stress. Success begins with a stable path to recovery, and you can find exactly what you need when you book a treatment at Sundown Ranch.
At Sundown Ranch, you will find that our staff is dedicated to restoring hope and we are always available to address any of the questions or concerns that you may have. We bring patients the personalized addiction treatment, and we can work with a variety of people ranging from adolescents all the way up to young adults that are going through chemical dependence issues.
How Are We Different?
When you embark on your journey to healing your addiction with Sundown Ranch, you will see that our rehab facilities in Dallas are staffed by roughly 100 team members. What this means is that you have many people working on your side to come up with a treatment plan that caters to your needs as an individual. We understand that no two people are alike, so we tailor your treatment to give you the care, support, and guidance that you need for a successful journey to sobriety.
If you know that you or someone that you care about is in need of treatment, you never want to wait too long. Even if you are unsure of the process, we will be more than happy to have you come by for a meeting and tour so that you can learn more about our facilities and all that we have to offer. Our staff has extensive experience when dealing with a range of clients, and we know the ins and outs of those who have a co-occurring psychiatric disorder.
Sundown Ranch is available to discuss your need for comprehensive treatment, quality client programs, and even family programs that are structured to the unique nature of your family unit. We invite you to come by so that we can discuss all of the services that we have to offer at our rehab facilities in Dallas so that you can make an informed decision on the right treatment plan for you or your loved one. We provide a safe, cost-effective means for beneficial treatment as a way to rehabilitate those who have developed a dependence on drugs and alcohol.
Rehab Facilities Dallas
Sundownranchinc.com
9034793933
3120 Co Rd 4413 2318, Canton, TX 75103
View Larger Map